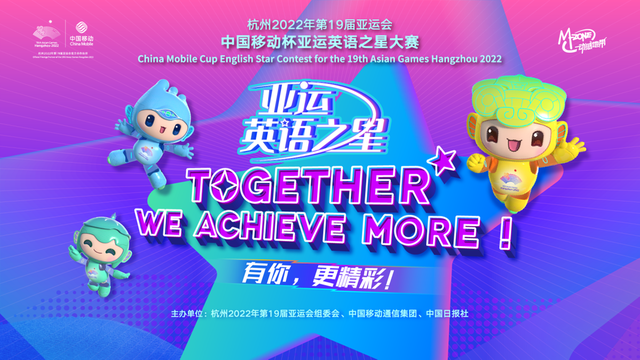 The Hangzhou Asian Games Organizing Committee (HAGOC) is joining hands with China Daily and China Mobile to hold an English language contest in a bid to promote the spirit of the Asian Games, and showcase the charms of the host city.
The launch ceremony of the China Mobile Cup English Star Contest for the 19th Asian Games Hangzhou 2022 was held in Hangzhou, the capital of East China's Zhejiang province last Thursday.
Husain Al-Musallam, director general of the Olympic Council of Asia, offered his congratulations to organizers via a video message played at the ceremony.
"Volunteers are one of the most important pillars of the Asian Games, and the 'English Star' contest will provide a once-in-a-lifetime opportunity for people and students to be associated with the Asian Games," said Musallam, who encouraged people to participate in the contest and be part of Hangzhou 2022.
Echoing those sentiments, Mao Genhong, deputy secretary-general of HAGOC, said the contest will encourage more people to care about, love and participate in Hangzhou 2022, and promote exchanges, mutual learning and understanding between different cultures.
"I also hope the Asian Games 'English Stars' will make full use of their language advantages, vigorously promote the Olympic spirit, tell the story of the Asian Games well and enhance the influence of Zhejiang and Hangzhou," said Mao.
"The contest will provide a stage for young students as well as Chinese and foreign people who love sports and English to tell sports stories and promote the spirit of sports in English," said Liu Weiling, deputy editor-in-chief of China Daily.
Liu expressed hope that this event will inspire more young people to tell stories about China at the Hangzhou Asian Games and make their own contributions to the country's international communication and cultural exchanges, as well as to the promotion of world peace and development.
As one of the sponsors of the contest and official prestige partner of Hangzhou 2022, China Mobile will help select and reserve foreign-language talents for the Games, and provide professional communication services for the event, in a bid to build the image of Hangzhou as an international city, said Chen Hongtao, vice-general manager of China Mobile's Zhejiang branch.
Wang Guan, a CGTN anchor and host, shared his experience in English learning, English public speaking and conducting interviews at the launch ceremony.
Wang Guan encouraged potential contestants to read widely and listen to reports on domestic and international issues from different information sources, improve cross-cultural communication literacy, and show the global perspective of Chinese citizens in the new era.
"I think there are two qualities that are essential-one is empathy, that is the ability to put yourself in another person's shoes, and really try to imagine what he or she is going through," Wang Guan said.
"In addition, you should really keep an open mind to engage a person from another background, a different cultural or ethnic background, or from a different political system."
Seventeen-year-old Wang Licheng from the Shanghai Foreign Language School Affiliated to Shanghai International Studies University, who was the champion in the junior group of the China Daily "21st Century Cup "National English Speaking Competition sponsored by China Daily, and 18-year-old Ge Jing from the Hangzhou Foreign Languages School, who took third place in the senior group, showcased their English-speaking ability through a poetry reading at the launch ceremony.
"As a volunteer, you have to be responsible and always be ready to devote your energy and strength to the Hangzhou Asian Games if you want to be part of it," said Wang Licheng.
"And since it is an international event, I believe it is important to understand that it is not only your responsibility to serve this event, but it is also your responsibility to introduce yourself and China to the rest of the world."
Adopting the theme "Together, we achieve more!", the 'English Star' competition will run from May until October.
Three categories of people are eligible to take part: Chinese students (including undergraduate and junior college students, masters and doctoral students) without limitation in age and majors; Chinese citizens at least 18 years of age; non-Chinese citizens aged 18 or above without limitation in education background and occupation.
All contestants are required to submit videos for the preliminary competition, including a 30-second self-introduction in English and a 90-second English keynote speech themed "Life Shines on Life".
Results of the preliminary round auditions will be announced in August. Four thousand entrants will be selected for the semifinals qualifying round and national finals in September and October to exhibit their abilities in English public speaking, interviewing and a talent show.